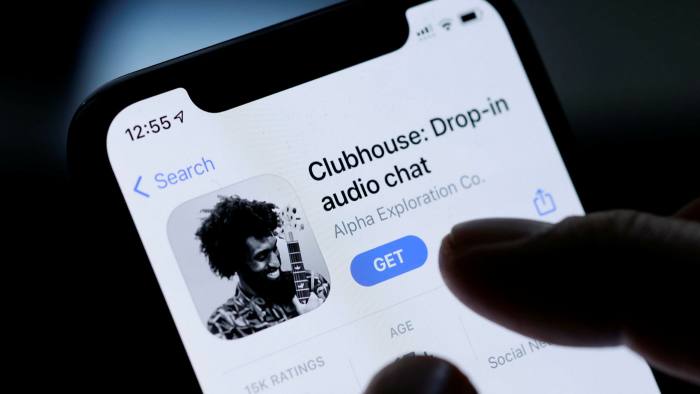 The popularity of Clubhouse is growing from strength to strength as an exclusive audio chat social networking application.
Access to Clubhouse isn't as easy as registering an account and joining for free as the app that's only available on iPhone, is in beta mode meaning that it's not freely available to join.
Clubhouse invites are being sold on average between $20 [€16.60] to $50 [€41.50] – but there have been some invitations selling for as much as $125 [€103.74] on Ebay.
Ebay, as well as Reddit, Facebook and Craigslist have been popular selling platforms for Clubhouse passes with subreddits amassing 2.8k followers and 4.8k comments on reddit threads.
Launching in April, Clubhouse has already been downloaded 3.6 million times and in the last six days alone, 1.1 million new downloads. People in the app's "rooms", interview each other with no video acting as online audio conference. Celebrities including Drake, Tiffany Haddish and Virgil Abloh have been Clubhouse's previous panelists.
Elon Musk's appearance on Clubhouse last Sunday sparked immediate interest with his room being full – rooms are limited to 5,000 concurrent listeners. Perhaps this was the reason for the creation of two "overflow" rooms where the CEO of SpaceX could also be heard. During his interview, Musk called out Robinhood CEO, Vlad Tenev, requesting him to explain why Robinhood stopped users from buying GameStop stocks.
Chinese social media network, Weibo, had the hashtag for Clubhouse invite codes trending – being sold for between 150 Yuan and 400 Yuan on e-commerce platforms, Xianyu and Taobao. The app isn't even available for download in China, prompting users to switch to a non-Chinese Apple account.
Clubhouse is yet to be blocked by the Chinese government, allowing people to have the freedom to talk about censored topics as the app is still very much under the radar. Tech reporter Jane Li quotes one Weibo user asking, "So the reason for the craze about Clubhouse is because we finally can find a corner to (temporarily) talk freely?"
On the other side of the spectrum, Clubhouse is becoming increasingly popular in the US, however critics suggest the app isn't doing enough to control hate speech and harassment on the platform – these include accusations of misogynoir, sexism, racism, and Anti-Semitism. Due to the app providing no chat section, moderators are finding it hard to flag content in comparison to other social networks such as Twitter and Facebook.
There are also questions around the influence of the room's hierarchies, as quoted by Vanity Fair via Highsnobiety, "pseudo-intellectual monologues from powerful users can go unchecked, leaving them free to promote racist ideas under the guise of posing legitimate questions or playing devil's advocate."
The more Clubhouse invites are being shared and sold, the more pressure there will be for moderation on the app.
Source: Highsnobiety