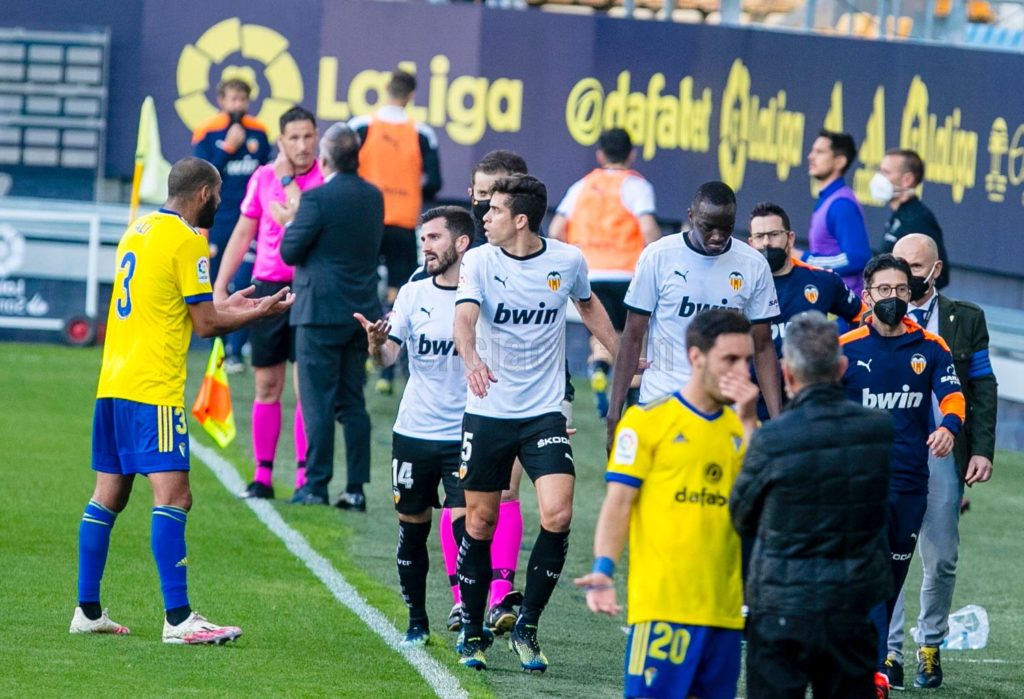 Valencia walked off the pitch in protest as the fixture away to Cadiz was temporarily halted after alleged racist abuse aimed at one of their players.
Valencia's Mouctar Diakhaby collided with Juan Cala as Cadiz crosses an in-direct free-kick into the opposition box just before the half-hour mark.
The French defender engaged in a verbal exchange with Cala where Diakhaby was booked for unsportsmanlike conduct as teammate Kevin Gameiro and Cadiz's Fali held him back in the incident.
Diakhaby explained what he felt had happened and prompted his outburst before walking off the pitch and down the tunnel with his teammates with the match at 1-1.
𝗡𝗢 𝗧𝗢 𝗥𝗔𝗖𝗜𝗦𝗠 ✊🏽✊🏿

The team have held a meeting and decided to continue the game, in order to fight for the honour of the club, but denounce racism of any kind.#CádizValencia

— Valencia CF 🦇🍊🌊 (@valenciacf_en) April 4, 2021
The Valencia players returned to the field roughly 20 minutes later after talks inside the dressing room.
Diakhaby was substituted for Hugo Guillamon at the restart while 31-year-old Cala was replaced at half-time.
We offer our complete backing to @Diakhaby_5

The player, who had received a racial insult, requested that his teammates return to the pitch.

WE SUPPORT YOU MOUCTAR

𝗡𝗢 𝗧𝗢 𝗥𝗔𝗖𝗜𝗦𝗠 ✊🏽✊🏿 pic.twitter.com/iPtPSpdNYv

— Valencia CF 🦇🍊🌊 (@valenciacf_en) April 4, 2021
As quoted by Sky Sports, Valencia captain Jose Gaya talked about the situation:
"Diakhaby mentioned to us there were some insults from the opposition, and we are not going to accept that.
"We decided to leave the pitch and were just waiting to see what was going to happen.
"We were going to stay with our team-mate but we were told we would have to leave the pitch, we came back on the pitch because we were told we were probably going to lose the game.
"That's what happened and Diakhaby asked us to return as well and that's why we decided to come back.
"We did what we were told – we were told to come back to the pitch or lose three points or possibly a few more but we did so because Diakhaby asked us to do so.
"He told us to continue but he didn't want to – he's not happy after the game, he's quite upset and very hurt."
An 88th minute header from Marcos Mauro sealed the win for Cadiz, who now have further breathing space above the La Liga relegation zone.
Source: Sky Sports