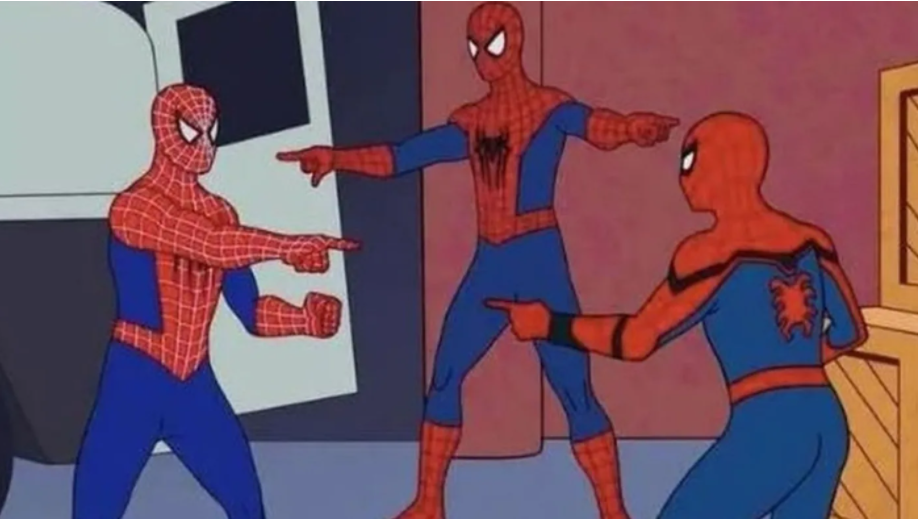 Spider-Man: No Way Home is one of the highest-grossing films of all time, and Tom Holland, Andrew Garfield, and Tobey Maguire recreated the classic Spider-Man meme to celebrate the film's upcoming Blu-ray and Digital release.
The live-action rendition of the three Spider-Men standing in a circle and pointing at each other was published on Tuesday by the official Spider-Man: No Way Home Twitter account.
"Of course, we got THE meme," the account tweeted. "#SpiderManNoWayHome swings home on Digital March 22 and on 4K UHD & Blu-ray on April 12!"
The meme is based on a scene from the 1967 Spider-Man animated series "Double Identity," in which a villain impersonates the web-slinger, resulting in a photo of the two of them pointing at each other. A third Spider-Man was added to certain copies of the meme, resulting in the one you see above.
In Spider-Man: No Way Home, there's also an easter egg where all three Spider-Men appear to pay respect to the meme shortly before the climactic battle. When Holland, Garfield, and Maguire are attempting to figure out how to operate together, they start pointing at each other to determine Spidey's hierarchy.
of course, we got THE meme. #SpiderManNoWayHome swings home on Digital March 22 and on 4K UHD & Blu-ray on April 12!

Pre-order now: https://t.co/Rythp0WfkU pic.twitter.com/pOmV6y3lJr

— Spider-Man: No Way Home (@SpiderManMovie) February 23, 2022