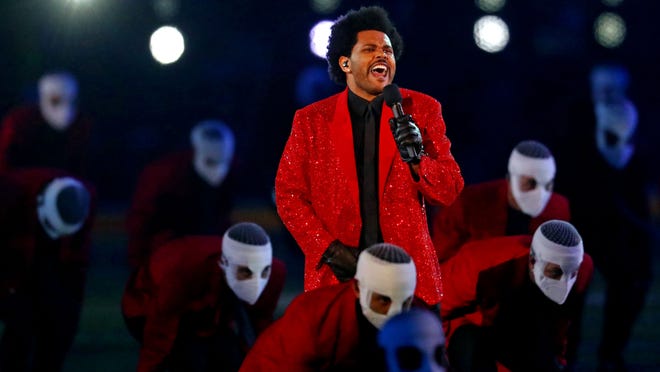 According to MRC Data via Billboard, The Weeknd's streams have significantly increased in the U.S by 41%.
48.9 million on-demand streams were generated through video and audio platforms across The Weeknd's entire catalogue of songs between February 7th-February 8th, compared to the 34.5 million calculated on Feb 5th-Feb 6th.
"Blinding Lights" the hit the Canadian R&B star finished with at the Super Bowl Halftime show, soared up 42% to the 6.54 million figure as The Weeknd's most-streamed tune.
"Save Your Tears" also proved to be a popular hit since the performance, rising up 23% to 6.19 million. Both songs combined for 26% of the artist's total streams on Feb 7th-Feb 8th.
All nine songs featured at the show below collectively received 23.8 million streams on Feb 7th-Feb 8th, a 51% increase from the 15.77 million tally on Feb 5th-Feb 6th:
"Blinding Lights" (6.54 million; up 42% compared to Feb. 5-6)
"Save Your Tears" (6.19 million; up 23%)
"The Hills" (2.52 million; up 79%)
"Starboy" (2.16 million; up 70%)
"Can't Feel My Face" (1.69 million; up 83%)
"I Feel It Coming" (1.55 million; up 87%)
"Earned It (Fifty Shades of Grey)" (1.44 million; up 88%)
"Call Out My Name" (1.25 million; up 46%)
"House of Balloons / Glass Table Girls" (465,000; up 350%)
If The Weeknd's songs are this popular in the States, imagine what these figures must be looking like globally!
Source: Billboard