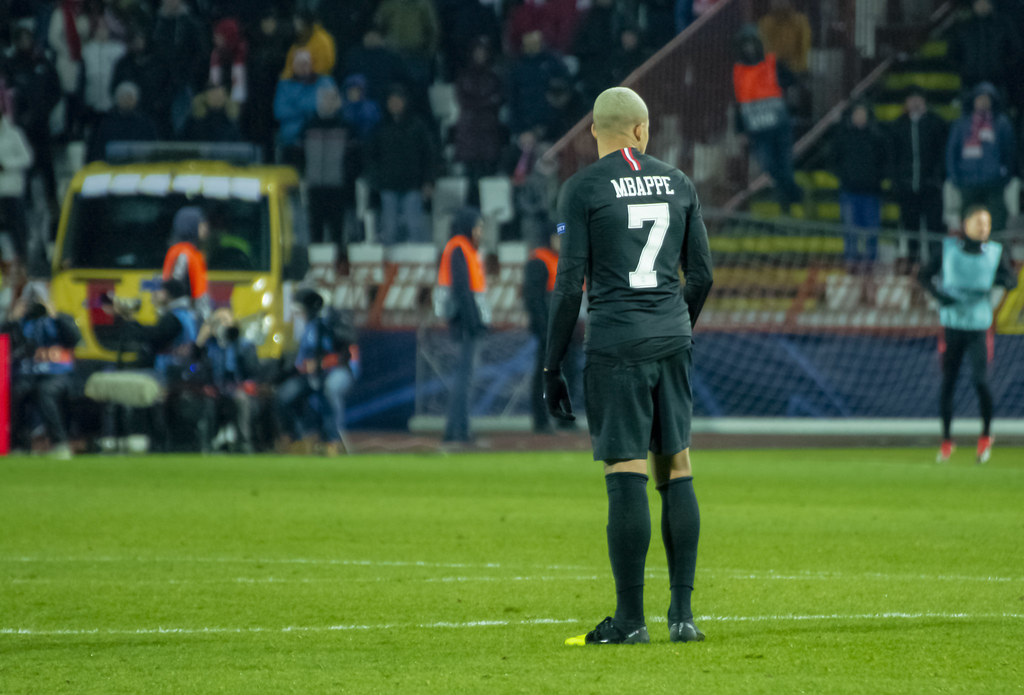 The pandemic is likely to have another impact on football clubs splashing the cash this summer but that's not to say that there won't be movements in the upcoming transfer market.
Europe's elite will be looking to find their striker solution for next season, even those that have their firm sights set on silverware in the current campaign.
The main case study around this subject is Manchester City. Pep Guardiola's quadruple-chasing side are flying in the Premier League, their in the final of the Carabao Cup, in the semi-finals of the FA Cup and in the last eight of the Champions League. Yet there's been plenty of speculation regarding the future of City's all-time top goalscorer, Sergio Aguero.
The Argentine has been out for the majority of this season with his contract expiring in June whilst Gabriel Jesus hasn't filled the expectations as City's number nine.
Local rivals Manchester United have also struggled for goals upfront. Marcus Rashford has been deployed mainly on the left wing whilst former Paris Saint-Germain striker Edinson Cavani has earned sporadic appearances for the club and like Aguero, is also out of contract this summer.
Meanwhile, Chelsea have chopped and changed with their line-ups this season, particularly in attack. One week it's Timo Werner, who's struggled in his first season in the Premier League since moving to the Blues from RB Leipzig, then another week it's Tammy Abraham or Oliver Giroud. Thomas Tuchel has even used another one of Chelsea's recent big money signings in Kai Havertz as a false nine.
Then there's Liverpool, who have struggled for consistency with questions surrounding the future of the three forwards that have proved to be a great part of the English champions success in recent years: Mohamed Salah, Roberto Firmino and Sadio Mane. Critics have suggested that a new face needs to be part of the Reds' attacking mould.
Harry Kane has shown his loyalty towards the club the England captain broke onto the scene with in Tottenham Hotspur. Although, the chase for a trophy remains unfulfilled for the North Londoners and Kane.
Over in Spain, Karim Benzema continues to impressively lead the line at Real Madrid but there's been questions over the long-term durability of 33-year-old. Lionel Messi's situation at Barcelona is unclear as the Catalans have yet to also find a replacement for centre-forward Luis Suarez. The same can also be said for 36-year-old Cristiano Ronaldo's time at Juventus.
With all these theories around a potential talisman merry-go-round, there are three particular strikers that may well fill the void for the clubs mentioned.
Kylian Mbappe
Ever since breaking onto the scene as AS Monaco, Kylian Mbappe's value continues to rise with the world at his feet. Already a four-time Ligue 1 winner, Mbappe has demonstrated his raw talent in France as he continues to fulfil the high expectations placed on him by the public.
The World Cup winner has already scored 100 goals for PSG and his versatility in consistently being able to deliver either on the wing or as a centre-forward is unmatched.
When speaking about his compatriot, Thierry Henry was quoted by Sky Sports saying:
"He's got pace, he can play on the right, on the left, in the middle," said Henry. "I think when he can run at you he's at his best. Whether that's in the middle and running in behind, or down the side.
"He knows his strengths. He knows what he can't do. That's not being in an uncomfortable zone for him. He knows he can play on the right, and the left. He can leave you for dead when he's in the box, and he can finish.
"He'll beat you. If you don't attack him, he'll run, give him space and he'll turn on you. He's very different from Haaland. His awareness, his goalscoring abilities, are second to none."
As Mbappe excels on the pitch, the more talks there are off the field about what's next in his career. The Best Young Player at the 2018 World Cup was close to lifting the Champions League with PSG last season, losing to Bayern Munich in the final. It's the one trophy both the Parisans and Mbappe are desperate to lift.
Mbappe will also be thinking about what team and which players can get the best out of him in order to win an inaugural Ballon d'Or honour further down the line.
Clubs in England and Spain have been previously linked with Mbappe but unless anything drastic happens in the summer transfer window, it's unlikely he'll be leaving PSG at the end of the season.
Erling Haaland
Perhaps a more realistic target for Europe's elite will be the acquisition of Erling Haaland. Starring at Borussia Dortmund, the Norwegian has already scored an incredible 49 goals in 49 games in his 14 months at the Bundesliga outfit.
Haaland also became the youngest player to score 20 Champions League goals in competition history. The 20-year-old has the makings of a true number nine, where he lives and breathes finding the back of the net.
"He doesn't care about anything other than the goal," said Henry. "Other players will go wide but he wants to stay in front of the net, between the posts, he knows he's lethal there.
"You look at him and you think 'oh yes, trouble.' Straight away, he just wants to run in behind. The way he finishes is just ridiculous.
"The ability he has, he believes so much in himself. There is a bit of cockiness about him, if you can call it that. You have to look at people and say, I'm going to score.
"He doesn't want to go anywhere lese than to score goals. That's on his mind. It's not middle, wide, it's middle, middle. He wants to score goals."
The pulling power for Haaland will be Dortmund's struggles as a team. Whilst they're in the quarter-finals of the Champions League, Edin Terzic's side are faltering in fifth in the Bundesliga table. The striker even stormed down the tunnel at the end of the 2-2 draw with Koln last Saturday.
English clubs including Manchester City, Manchester United and Chelsea have been linked with a move for Haaland at the end of the season – even though a £65m release clause kicks in the summer of 2022 – watch this space.
Harry Kane
Harry Kane's legacy needs no introduction as a striker that has lit up the Premier League in the last five years. 100 goals behind the Premier League's all-time top scorer Alan Shearer, Kane has recently demonstrated his ability as a complete forward, that can play in deeper positions and create chances for his partner in crime at Spurs, Heung-Min Son.
Whilst Kane has shown his loyalty to the North-Londoners at this point, the 27-year-old will be keen to start building his trophy cabinet. Kane is quoted by Sky Sports saying in March 2020, "I love Spurs. I'll always love Spurs."
However, in this case, love may be able to last so long. This was his answer when quizzed on his future at Spurs, "it all depends on what happens as a team and how we progress as a team."
Whilst there's been few recent reports as to where Kane's next destination will be, he may be tempted to move to a Premier League rival, staying in England in the process.