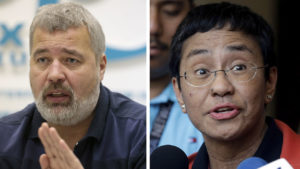 Filipino-American journalist Maria Ressa and Russian journalist Dmitry Muratov are the co-winners of the 2021 Nobel Peace Prize. Most of us may not know their names but in their region and area, they are known for fighting for freedom of journalism. The well-known award gives the winner a gold medal and a 1 million dollars money prize, too. The inventor of the Nobel Prize was Swedish Alfred Nobel. He died in 1895.
Norwegian Nobel Committee Chairman Beris Reiss-Andersen announced the 2021 Nobel Peace Prize and talked about it. Independent and free journalism always serves for protecting against lies, war propaganda, and abuse of power.
Maria Ressa is a 58-year-old journalist who is the co-founder and CEO of Rappler. Dmitry Muratov is 59 years old and he is one of the founders of the Russian newspaper Novaya Gazeta.