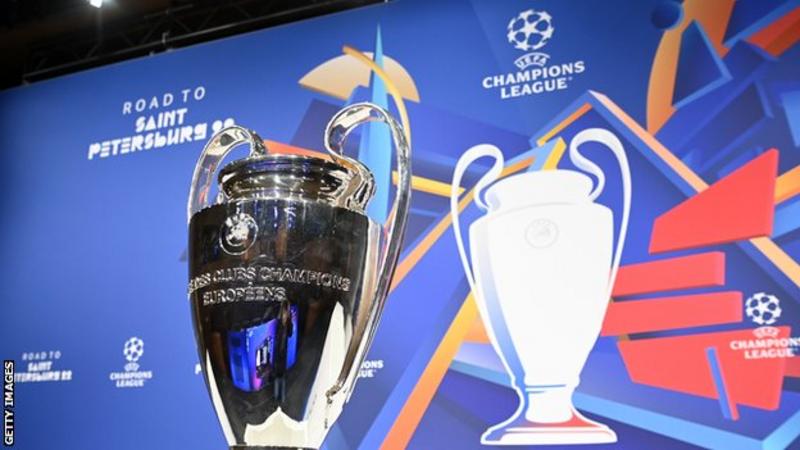 Because of the Ukraine-Russia crisis, Uefa is probably set to move this season's Champions League final away from St Petersburg.
Russia has dispatched soldiers to two rebel-held territories in eastern Ukraine, raising concerns of an invasion.
As a result of the move, other nations, notably the United Kingdom, have imposed sanctions on Russia.
In light of this, Uefa is widely believed to be unlikely to try to host the event in Russia.
UK Prime Minister Boris Johnson, speaking in the House of Commons on Tuesday, said there was "no chance of holding football tournaments in a Russia that invades sovereign countries".
Culture Secretary Nadine Dorries added that she had "serious concerns about the sporting events due to be held in Russia, such as the Champions League final, and will discuss with the relevant governing bodies".
She added: "We won't allow [Russia] President [Vladimir] Putin to exploit events on the world stage to legitimise his illegal invasion of Ukraine."
Meanwhile, former UK sports minister Tracey Crouch has told BBC Sport that Uefa should move the final "immediately".
The governing body of European football is reviewing the situation before making a decision, but for the third year in a row, it will be looking for a replacement location on short notice. Because of Covid-19-related concerns, the previous two Champions League finals were held in Portugal.
According to BBC Sport, the game will still take place on Saturday, May 28. This will certainly rule Wembley out as a venue, given the League Two and Championship play-off finals are scheduled for that weekend.
Uefa is in negotiations with Dynamo Kyiv and Sporting Lisbon over their Youth League last-16 match, which is set to take place on March 2 in Kiev.
Other Uefa competition matches may need to be rescheduled. There are no Ukrainian clubs remaining in any other European tournament this season, although Zenit St Petersburg of Russia is still in the Europa League and will face Real Betis in the second leg of their play-off round tie on Thursday in Spain. Zenit was defeated 3-2 at home in the first leg.