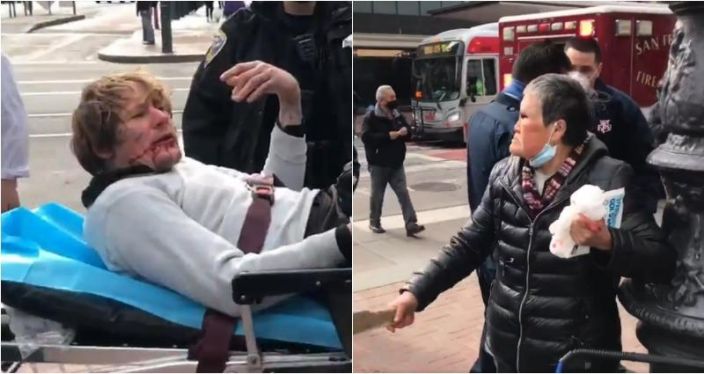 Violence against those of Asian descent in America continued on Wednesday after a man randomly punched a 76-year-old woman on the streets of San Francisco.
Xiao Zhen Xie spoke to KPIX5 explaining that she was waiting to cross at a traffic light before the attacker jabbed her in the eye.
The victim then quickly grabbed a plank of wood and proceeded to batter the man in the face as the video below shows the aftermath of the bizarre scene.
Just came upon an attack on an elderly Asian woman on Market Street San Francisco. Effort I got more details pic.twitter.com/5o8r0eeHE2

— Dennis O'Donnell (@DennisKPIX) March 17, 2021
Police kept Xie calm as she was looking to inflict more pain whilst the man was on a stretcher.
"You bum, why did you hit me?" she roared at him in Chinese as quoted by toofab. "This bum, he hit me."
Police also revealed that the man is being investigated for a separate attack on an 83-year-old Asian man earlier in the morning as they try to understand whether these assaults are hate crimes.
Meanwhile, a GoFundMe page has been set up by Xie's family to raise money for medical expenses with the donation already standing at $200,000 [€168,159].
Source: toofab