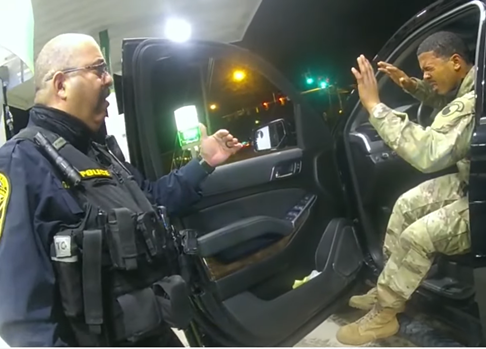 The Town of Windsor police department confirmed that one of the two officers involved in a traffic jam incident that saw a black and Latino U.S Army officer in uniform pepper-sprayed, has been fired.
The release stated that officer Joe Gutierrez was removed from his duties following an internal investigation into the events that saw him pepper-spray Lieutenant Caron Nazario.
It says at quoted by Hollywood Unlocked, "the pursuit and ultimate stop which resulted in the use of pepper spray against Lt. Caron Nazario by Officer Gutierrez" demanded an investigation to determine the discipline of Gutierrez's actions.
"At the conclusion of this investigation, it was determined that Windsor Police Department policy was not followed," officials said. "This resulted in disciplinary action, and department-wide requirements for additional training were implemented beginning in January and continue up to the present."
Nazario is reported to have filed a lawsuit against both officers earlier this month, citing the two using pepper-spray and pointing guns at him. The Lt. is also requesting $1 million plus punitive damages from the officers, believing that they violated his constitutional rights.
Source: Hollywood Unlocked