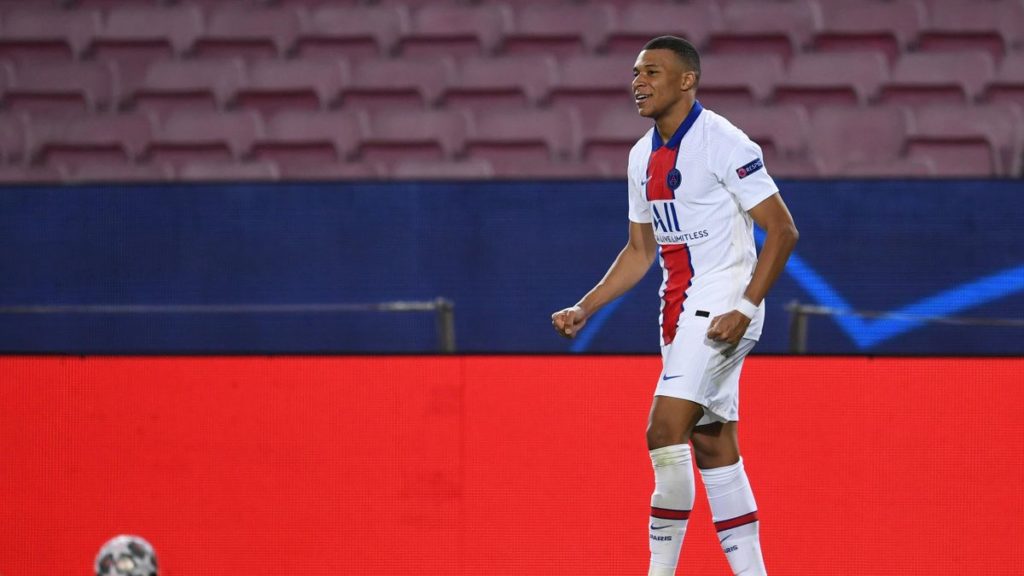 The stage was set for Kylian Mbappe to produce the goods for Paris Saint-Germain and the exciting French forward lived up to all expectations in putting his team firmly in control of their Champions League round of 16 tie against Barcelona.
In a dominant 4-1 first-leg win at the Camp Nou, Mbappe was electric from kick-off to the final whistle with a clinical hat-trick that had Barcelona's defenders, particularly Pique, on skates.
With Neymar and Angel Di Maria injured for the clash, it was up to Mbappe to show his talent and potential and boy did he deliver on Tuesday night, becoming the third-player to score a hat-trick against Barca in the Champions League.
The 22-year-old rifled a strike past Marc ter Stegen to equalise quickly after Lionel Messi's penalty had the hosts ahead.
In the second half, Mauricio Pochettino's team-talk clearly had a positive effect on the players, especially Mbappe who scored a further two goals to round off arguably the best individual performance in Europe's elite competition for quite some time.
Kylian Mbappé vs Barcelona pic.twitter.com/nE9xE3e0J2

— Thiago 🐺 (@HMDComps) February 16, 2021
Not only was Mbappe ruthless in his finishing, but it was also his pace that tore Barcelona's back four apart as Pique would have had nightmares last night in his first match since November after being injured. The picture below of the Spanish centre-back pulling Mbappe's shirt, just a prime example of his struggles against the man of the match.
Dear Pique,

If you wanted Mbappe's shirt, just ask #BarcaPSG pic.twitter.com/CVMZdnAJtM

— Joshua (@Joshuaxx_) February 16, 2021
The only thing that may concern PSG's hierarchy is how great a show Mbappe put on, with just one year remaining on his current contract, there have been rumours of a move to Real Madrid.
However, Mbappe waved these reports away, confirming that he wants to extend his stay at the Parc des Princes.
"The PSG shirt is one that I hold dear to my heart," he told RMC Sport as quoted by SPORTbible.
"It would be stupid to decide my future on a single match. The truth, is that it is about reflecting for the long term. I have always said that I am happy here. This sort of match makes me even happier."
Source: SPORTbible