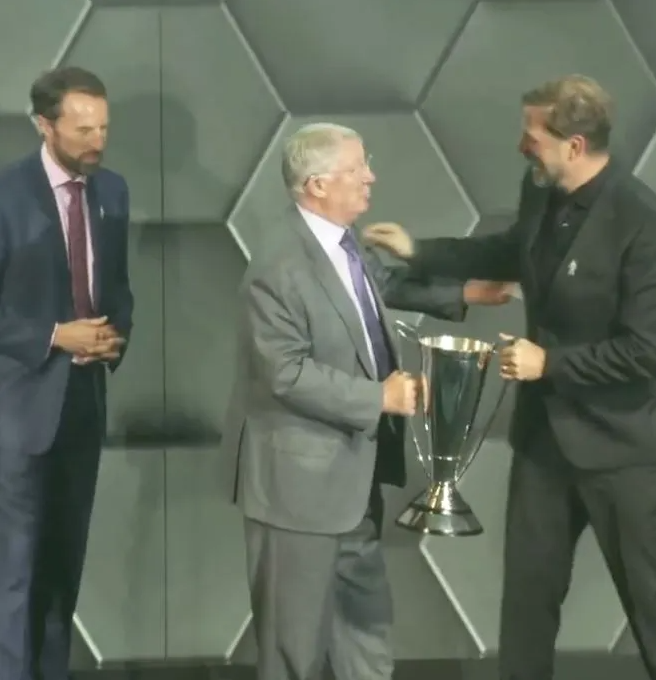 On Tuesday, Jurgen Klopp was crowned Barclays Premier League Manager of the Season, as well as receiving the Sir Alex Ferguson Trophy for LMA Manager of the Year.
Despite Liverpool's close loss to Pep Guardiola's Manchester City for the 2021-22 Premier League title, Klopp won the individual awards at the ceremony on Tuesday night.
Klopp has won two trophies with Liverpool this season – the Carabao Cup and the FA Cup – and might win three in the Champions League final this weekend.
Liverpool will meet Real Madrid in the final at the Stade de France on Saturday evening, and the Reds are the favorites.
Last Saturday, the Merseyside club came agonizingly close to winning the Premier League, but Man City's 3-2 triumph was enough to give Guardiola's side their fourth trophy in five seasons.
Ferguson stood aside for Klopp to be photographed with the trophy and England manager Gareth Southgate, which was a touching moment.
Klopp, who is a tremendous fan of Ferguson, drew the 80-year-old back to him so they could all take a picture together.
KLOPP PULLED FERGIE BACK IN FOR THE PHOTO 😭😭😭😭 pic.twitter.com/w2CYPpfNFQ

— The Anfield Talk (@TheAnfieldTalk) May 24, 2022