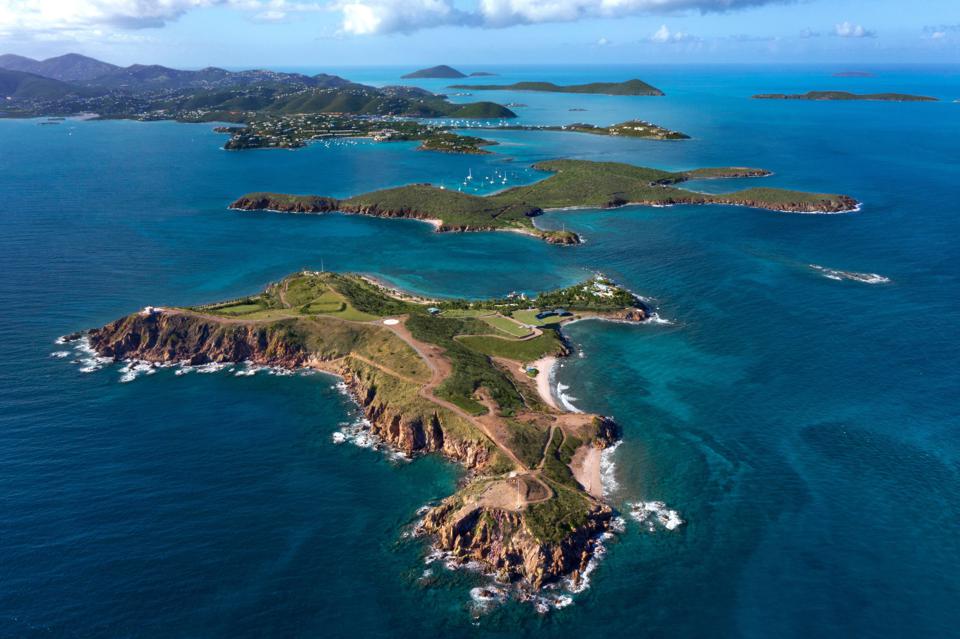 The late disgraced financier Jeffrey Epstein's two private islands in the US Virgin Islands, dubbed 'Pedophile Island,' have been placed up for sale by his estate.
The pair of properties comprises Great St. James and Little St. James, as first reported by The Wall Street Journal. Great St. James is the largest of the two islands, spanning over 165 acres and located near St. Thomas. It is still relatively unexplored. Little St. James features a main mansion, four guest houses, a helipad, private dock, petrol station, three private beaches, two pools, and a gym on its 72-acre property. The island, which boasts a flamingo-filled lagoon, library, cinema, and cabanas, is also where it was rumored that teenage females were forced into sexual service. There's also a mystery striped temple-like structure on the island, the function of which is unknown.
In 1998, Epstein bought Little St. James, and in 2016, he bought Great St. James. According to the New York Post in 2019, he was unlawfully constructing a complex on Great St. James. According to The Wall Street Journal, Virgin Islands authorities claim Epstein took children as young as 11 to the islands, where he and his colleagues sexually molested them. While awaiting trial on sex trafficking charges, Epstein died by apparent suicide in a New York detention cell in August 2019.
According to the Wall Street Journal, a lawyer representing the Epstein estate, Daniel Weiner, claimed that the proceeds from the sale of the islands will be used to settle existing claims and cover the costs of maintaining the properties. This isn't the first time Epstein's estate has sold off one of his properties. Todd Michael Glaser, a Florida real estate developer, bought his Palm Beach mansion for $18.5 million in March 2021 and immediately began demolishing it. Epstein's Upper East Side Manhattan house sold for $51 million in March 2021, and his other properties in New Mexico and Paris are now up for sale.