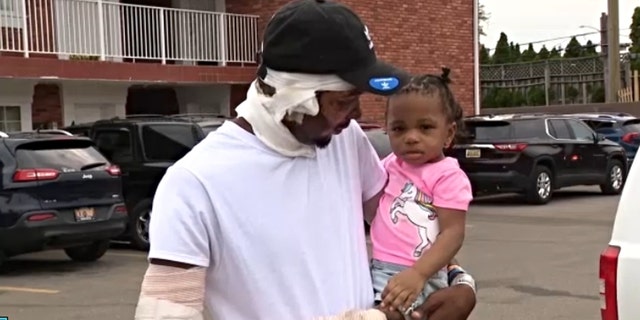 A man from Michigan saved his infant twin daughters in a house fire last Saturday where he wasn't able to see anything in front of him.
Ray Lucas and his twin daughters, Malaysia and Milan, suffered severe burns as their home has been deemed unliveable with a GoFundMe page raising $220,000, five days after the incident occurred.
Lucas, along with his wife Shi'Ann Brown, both left the home to run an errand before they came back to find their home was on fire as relatives were looking after the kids. The 23-year-old father is, as quoted by Complex via the GoFundMe, "worried because he cannot go back to work due to the extent of his injuries" adding that the family has lost "everything."
Lucas told Fox 2, as quoted by the news outlet that "the house was engulfed in smoke, I saw my mom and my niece were standing at the door and they were frantic." He later stated to the news station that he knew he "had to get my babies out."
"You really couldn't see your hand in front of your face," he said. "I really only found my babies due to my memory, just knowing where they were and knowing how to get to them, just from having that same route."
With burns found on his face at the time of recording, Lucas states he was temporarily blind for three days. Burns were also visible on both Malaysia and Milan, as the GoFundMe adds that the family is requesting help to support both medical expenses and refurnishing a place to live.
"Please help us to Bless this young man, the babies, and their mother Shi'Ann so that they may secure a new home, and restore and furnish a new home environment for the family to live,"
"If anybody can support that'll be great," Lucas told Fox 2.