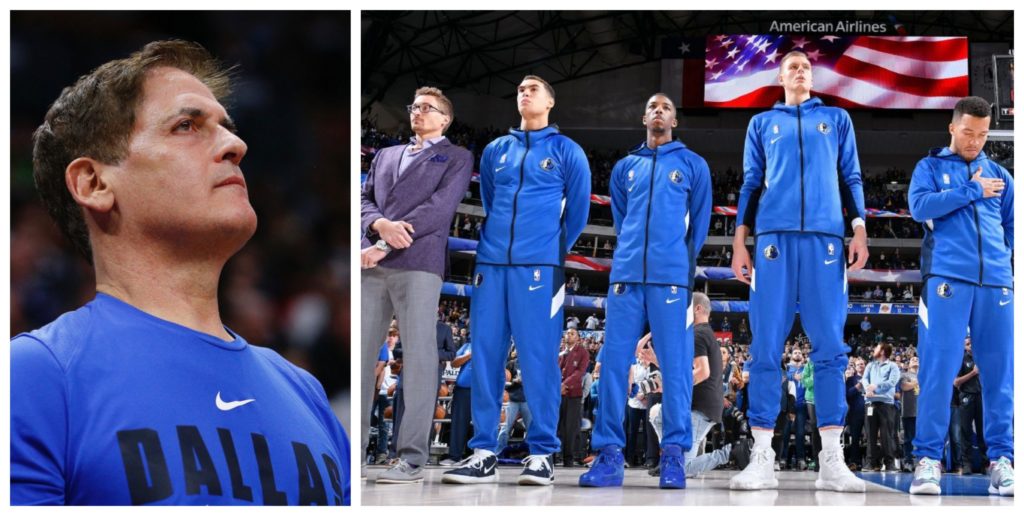 Dallas Mavericks owner Mark Cuban has decided that his franchise won't be playing the national anthem before games in the future, he confirmed to ESPN on Tuesday.
Cuban made the decision after talks with NBA commissioner Adam Silver and declined to comment further on the matter. The Mavericks announced no plans to change this policy as the national anthem has not been playing before all 13 pre-season and regular-season matches at the American Airlines Center this season.
A team source stated that no players, coaches or staff members from other sides have mentioned the change.
Silver declined to enforce the current rule that demands players to stand throughout the national anthem as kneeling has been common practice during The Star-Spangled Banner in a way to protest the recent years of social injustice in America.
During the league's restart in the Orlando, Florida bubble last year, the vast majority of NBA players and coaches knelt during the national anthem whilst the league incorporated the Black Lives Matter movement and various social justice causes as part of their message through court design and other means.
As quoted by ESPN, Silver said, "I recognize that this is a very emotional issue on both sides of the equation in America right now, and I think it calls for real engagement rather than rule enforcement,"
Cuban spoke to ESPN's Outside the Lines in June, where he openly supported players kneeling during the national anthem as a way to protest.
"If they were taking a knee and they were being respectful, I'd be proud of them. Hopefully I'd join them," Cuban said.
Cuban further stated that he hopes the NBA would "allow players to do what's in their heart."
"Whether it's holding their arm up in the air, whether it's taking a knee, whatever it is, I don't think this is an issue of respect or disrespect to the flag or to the anthem or to our country," Cuban said. "I think this is more a reflection of our players' commitment to this country and the fact that it's so important to them that they're willing to say what's in their heart and do what they think is right.
"I'll defer to [Silver] on any final judgments and [players' union executive director] Michele Roberts. But the reality is, my hope is we'll let the players do exactly what they think is the right thing to do."
Cuban has changed his opinion from four years ago after then-President Donald Trump criticised NFL players, including Colin Kaepernick, who knelt during the anthem to protest social injustice and police brutality.
"This is America, and I'm proud of people who speak out civilly. That's who we are as a country," Cuban said at the time. "I'll be standing there with my hand over my heart. I think the players will be [standing]. I expect them to be."
As the Black Lives Matter has continued to grow in the last year, Cuban explained the reasons behind his change of opinion.
"Because I think we've learned a lot since 2017," he told Outside the Lines in June. "I think we've evolved as a country. And this is really a unique point in time where we can grow as a society, we can grow as a country and become far more inclusive and become far more aware of the challenges that minority communities go through.
"So I'll stand in unison with our players, whatever they choose to do. But again, when our players in the NBA do what's in their heart, when they do what they feel represents who they are and look to move this country forward when it comes to race relationships, I think that's a beautiful thing and I'll be proud of them."
Source: ESPN