Rumours that Usher paid strippers with fake money have been circulating around social media these past few days but according to TMZ, these reports are false.
A dancer posted photos of three "Usher bucks" coming in $100, $20 and $1 amounts with his face on the notes.
A representative at the Sapphire club in Las Vegas told TMZ that Usher used authentic and legit money, tipping staff members generously in the process.
Sapphire are happy to have Usher back at their club after the artist spent thousands on the dancers along with bottle service.
The reason for these "Usher bucks" was that one of his associates left these dollar bills behind for a laugh, but to also promote his new Vegas residency.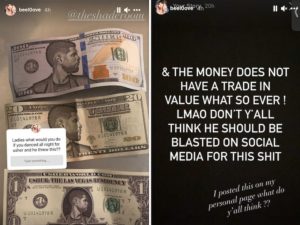 Was the accuser misinformed or looking for attention in framing Usher? Either way, these claims are surely false.
Source: TMZ