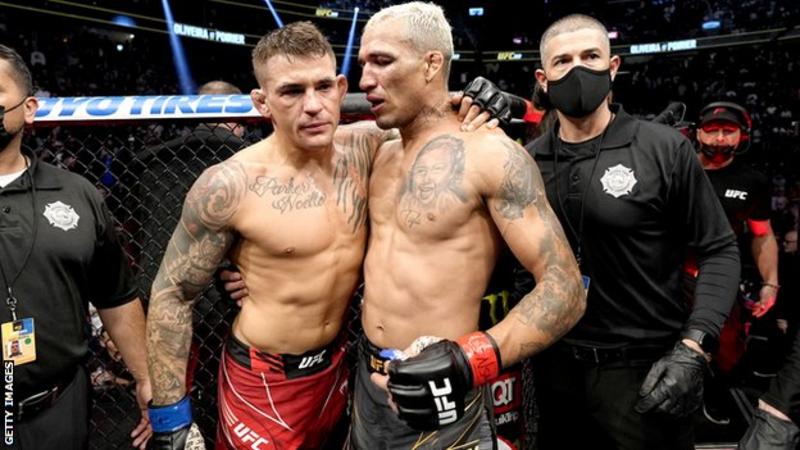 It took a long time for Charles Oliveira to receive a shot at a UFC championship, but now that he has it, he is ready to maintain it for a long time.
Oliveira maintained his title in the main event of UFC 269, when he submitted Dustin Poirier with a standing rear naked choke at 1:02 of the third round at a sold-out T-Mobile Arena.
Poirier's striking won the first round, but Oliveira controlled the second and ended Poirier with a rear naked choke at 1:02 of the third.
"I'm the champion," Oliveira said. "They talk. I do."
In the first round, Oliveira landed some huge strikes, but he made a point of aiming for the body, which looked to take some of Poirier's steam away. When Oliveira knocked Poirier out in the second, he stayed him down and slammed his elbows into his skull.
Poirier, who was a -135 favorite at BetMGM, made it through the second round, but the third was over almost as soon as it began.
"His durability [surprised me]," Poirier said. "I hit him with some good clean shots in the first round that might have gotten him out of there."
To begin the third round, Oliveira escorted Poirier to the cage and began climbing up his back. It took him a few moments to get into position, but once he did, he put the choke on and Poirier quickly tapped out.
When it was over, Oliveira dashed to the cage and yelled at Justin Gaethje, the lightweight champion's next opponent.
Oliveira, who has the most submissions in UFC history (15), demonstrated in May that his title-winning victory over Michael Chandler was no accident. He's one of the finest finishers in the game, and he did it against one of the best.
Poirier was ranked No. 2 on Yahoo Sports' list of the world's finest pound-for-pound fighters, but Oliveira will undoubtedly climb that list.
He showed quality striking, a good plan and the finishing skills that have made him one of the best in the world over the last decade.