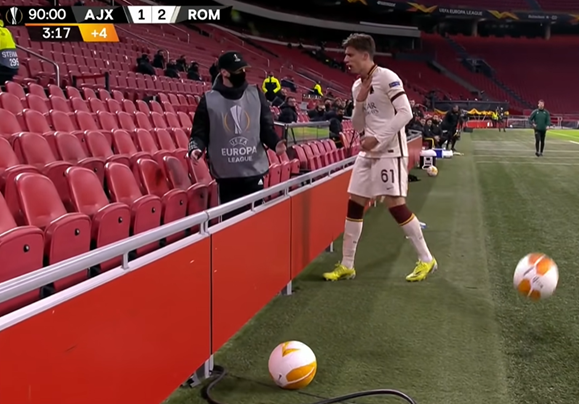 An Ajax ballboy launched a ball at Roma's Riccardo Calafiori in Thursday's Europa League round of 16 tie as the Serie A side held onto a 2-1 first-leg lead at the Johan Cruyff Arena.
In the last minute of extra-time, the ballboy had naturally thrown a ball towards Calafiori, who threw the ball along the ground.
The 18-year-old then asked the ballboy for another ball which caused him to chuck a second ball at Calafiori.
It appeared to be a time-wasting tactic from the left-back with his side hanging on to a crucial deficit going into the second leg in Rome.
Do not try and waste time in front of Ajax's ballboys 😂 pic.twitter.com/SquvnJRYIy

— Football on BT Sport (@btsportfootball) April 8, 2021
Calafiori received a yellow card after the incident but there was no hard feeling towards the ballboy speaking of the encounter in a post-match interview.
"I will say that seeing your opponent waste time in a situation like that would've irritated me too," he told Sky Sports as quoted by SPORTbible.
"I won't say I respect him, but I do understand. It's OK."